We are now offering the opportunity to train face to face in London or online for the complete programme January - December 2022.
This is a modular programme which can be taken over a flexible period of time, from a minimum of a year upwards. The process we have embraced is self, peer, supervisor and supervisees assessment. We have found that this keeps the process in relationship and maximises the learning. The reputation of the courses and their history has enabled graduates to use their attendance as a recognised supervision training and they report that our training has qualified them for the work they have wanted to do in the field of supervision.  We aim to provide the requirements for professional accreditation as supervisors including those of BACP, UKCP and BPS.
The Certificate consists of four modules, supervision practice and then followed by the self and peer assessment enquiry and tutorials:
Four modules: Core, Therapeutic - The Seven-Eyed Model, Group and Advanced.  To be attended in this order.
If you have completed our Certificate programme it is possible to repeat a course at a cost of £150 if the course is not fully booked.
(All Core course participants will receive a complimentary copy of 'In Love with Supervision' Shohet R. And Shohet J. 2020)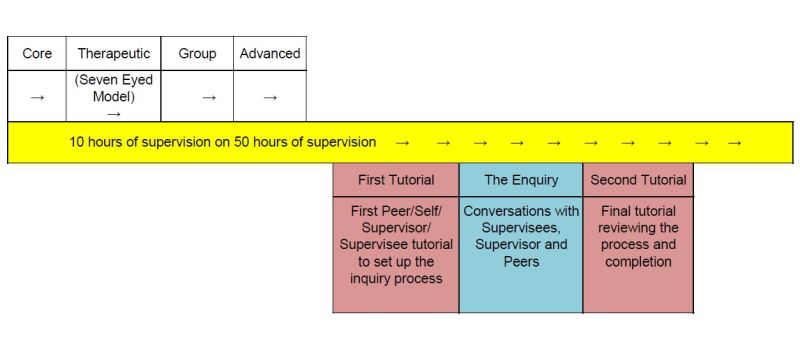 Tutorials and Self, Supervisor, Supervisee and Peer Assessment
Ten hours of Supervision on supervision with a senior practitioner of the participant's choice covering 50 hours of supervision practice, the 50 hours commencing from the time of the Core. The 50 hours do not have to be completed before attending the Advanced Course.
Supervisor, supervisee, peer and self assessment process takes place after completion of the above and commences with a first tutorial with a CSTD tutor in which the participant contacts their tutor after they have completed the four modules and 50 hours of supervision to arrange their first tutorial. This tutorial is to review their training and the self assessment questionnaire that they will have filled in on the Advanced training and shared with their 'home group'. It is also to plan their self, supervisor, supervisee and peer enquiry process including how they will embark on the enquiry conversations they will be having in their supervision sessions using the enquiry form.
A second tutorial completes the process. The participant will share the learning and experience of the enquiry conversations, review their overall learning and celebrate their journey!
We intend the certificate process to be one of self empowerment in which the participant endorses themselves as a supervisor with the support and challenge of their supervisees, peers, supervisor and tutors.
These questionnaires are for the use of the trainee for their self assessment and they are filled in and discussed at the end of the Advanced.
Self, peer, supervisor and supervisee enquiry form
The enquiry form is for a conversation to be had with your supervisor, two or more supervisees and a peer. It is to be handed out to them ahead of the conversation you will be having and filled into together in your supervision session or with regard to your peer in a conversation you will have arranged with each other. The enquiry form is a stepping stone to having a conversation about your relationship and how it serves you both, your clients and your work.