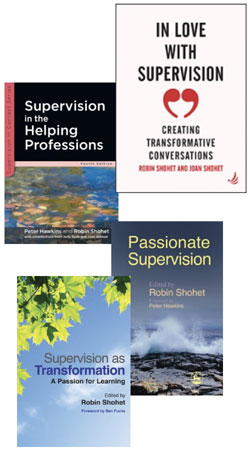 The Centre for Supervision and Team Development has been a leading training organisation for supervision since 1979.
The core of the training is based on the Seven Eyed Model which is more fully described in 'In Love with Supervision' (Shohet R. And Shohet J. 2020) and in 'Supervision in the Helping Professions' - Hawkins, McMahon and Shohet 5th edition) which has sold more than 100,000 copies and been translated into eight languages.
In addition to our face to face courses at Little Venice, London, we are now offering the training online.
The courses are experiential which helps to build up a sense of safety and community.
The rich mixture of participants with different backgrounds, orientations and experience builds an environment that challenges limiting beliefs and creates a supportive and creative learning experience.
Our teaching draws on learning from psychology, psychotherapy, group dynamics, inter-subjectivity, appreciative inquiry and systems thinking.
The Seven Eyed Model described in 'In Love with Supervision' is a way of looking and has been found to be equally effective for clinical supervision (both individual and group), managerial supervision, spiritual mentoring and organisational supervision.
What is supervision?
"SUPER-VISION – it's when you can see through things and you can see what is really there."    Albert (aged 6)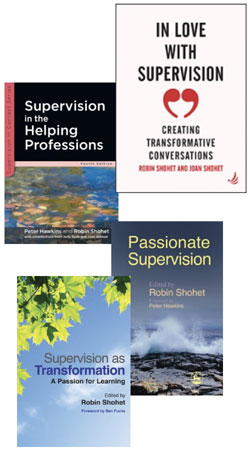 The Supervisory Relationship: Difficulties and Delights - with Robin Shohet
Saturday 29th January 2022 - Interactive Webinar on Zoom
Cost: £120 (plus VAT)
9.30am - 4.30pm
To book: https://www.grayrock.co.uk/product.php?xProd=263&xSec=1
In a world dominated by an audit culture the supervisory relationship is of vital importance. Through good role modeling, it upholds the value of relationship as a vehicle for transformation. How does the supervisor avoid becoming part of a culture that is increasingly moving towards avoidance of risk and defensive practice? In this workshop we will use Appreciative Inquiry as our starting point and courage as our theme - the courage to take risks, be honest and vulnerable and own what might seem like mistakes, but in fact are potentially vehicles for growth.
Robin Shohet has been running supervision courses since 1979. He combines his work as a trainer with team coaching and culture change in organizations using Appreciative Inquiry. He has published widely on the topic of supervision including: 'Supervision in the Helping Professions', 'Passionate Supervision', 'Supervision as Transformation' and his latest book 'In Love with Supervision'.
This workshop will contribute 6 hours towards Continuing Professional Development requirements.
We have an exciting program of workshops coming this year designed for Coaches, Counsellors, CBT practitioners, Doctors, Nurses, Occupational Therapists, Psychiatrists, Psychologists, Psychotherapists and Social Workers.
These courses are presented in partnership between Grayrock and Stanton Psychological Services. For further information and workshops, go to  http://www.grayrock.co.uk/
We do hope you can join us later this month with this highly sought-after speaker.
If there is anything more that you need to know, please do not hesitate to email us at info@grayrock.co.uk or call us on 07549 277448.
Details of our full program are on http://www.grayrock.co.uk/
Please forward this email onto any of your colleagues who might be interested in this workshop.  Thank you.
Best wishes,
Dr Christine Dunkley
Consultant Psychological Therapist
After completing the training, participants can attend regular supervision sessions and training days.
As well as training for individuals, we offer bespoke courses for any organisation, team, charity or small business that wants to promote a culture of reflective practice.