A Fun Filled Family Holiday For All Ages
Joan Wilmot and Robin Shohet - Postponed
Cost: €400,  (Children age 8 – 12, €200, age 4 – 7, €100)   Kalikalos, Pelion Peninsula, Greece  (Kissos Campus)
The Family holiday week  is a place for families any kind of family, nuclear family, extended family, be they grandparents, aunts, uncles, cousins as well as husbands and wives, single parent families, blended families, step parents step children, adopted children neighbours, friends…  You can also attend this event without your family.
Each family group will be held in a family constellation and appreciative inquiry framework and have the opportunity to cook together and garden supported by the community we create together.
Appreciative inquiry and family constellations (Lots of stuff about them on the Internet) are ways of looking. They will be a major part of our lens and container for the week. Appreciative Inquiry (AI) says we can either look at our families and ourselves 'as problems to be solved' or 'as mysteries to be embraced'. Which makes you smile? We will start the week with asking each family member what works in your family; share a 'sparkling' moment from your time together.
The days will include walking in the mountains and bathing in the waterfalls, exploring the beautiful Pelion peninsula and going down to the wonderful beaches of Damouchari, Papa Nero and Plata. There will be options for improvisation drama, poetry, music and an introduction to the Greek language and whatever wishes, interests and talents people bring with them. We meet on the first morning to create the week together.
Come for a creative, nourishing, inspiring and fun family holiday!
Facilitators: Robin Shohet and Joan Wilmot finally got married in on the beautiful Greek island of Skopelos after being together for 38 years.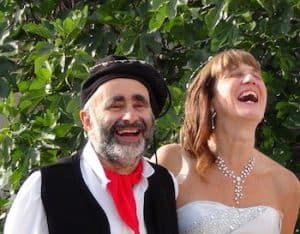 They are psychotherapists, couples therapists, group workers, reflective practice supervisors and coaches. They have been running groups for over 40 years and live half their time in London and half in Findhorn, a spiritual and intentional community in the northeast of Scotland.  They have four grown up sons and two grandchildren.  They are both learning the accordion and Joan is learning Greek very slowly.  They are part of two improvisation drama groups and are keen to bring this to the family experience week.   More details
We look forward to seeing you.
Robin and Joan